Duplo DB-280 Perfect Binder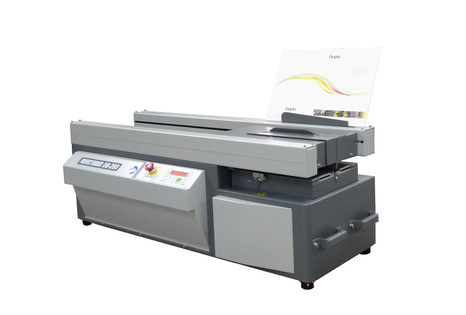 The user-friendly and automatic DB-280 brings professional perfect binding to your desktop. Producing up to 200 books per hour, the DB-280 is ideal for short-run, on-demand applications.
With the automated performance and other outstanding features typically reserved for more expensive machines, the DB-280 provides centrally-located controls for single-operator efficiency. Simply place flat sheets into the clamp where pages are gripped automatically and the binding process is started. A double pass over the roughening cutter provides superior notching for superb glue penetration. Its clamping and nipping system ensure consistent square binds.
The DB-280 also has tape binding capabilities and with a quick push of a button, can convert to a padding function where only the precise amount of glue is added for perfectly bound notepads.
Features
Produces up to 200 books per hour
Up to 360 cycles per hour
Creates perfect bound, tape bound, and padded books
Single-operator design and easy changeovers
Unique notching method for maximum glue penetration
Improved clamping and nipping system
Demo Video
http://www.duplousa.com/products/ProductDetails.aspx?ProductNumber=DB-280&CatNumber=4
M.A.M. Offset Repair 800-585-5063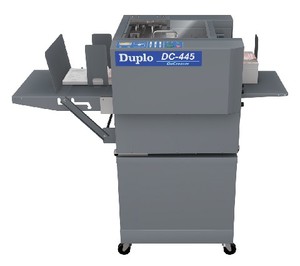 Prevent toner cracking and unattractive fold lines with Duplo's DC-445 Creaser. A simple and affordable finishing solution no digital printer should do without, the DC-445 creases a wide range of applications at up to 50 sheets per minute. Creasing digitally-printed output prior to folding ensures a clean, professional finish and makes it easier for folding devices to bend with accuracy. The DC-445 applies up to 15 creases in a single pass with great precision and is perfect for creating unique accordion applications and other color documents that require a fold right along the color break. Fully automatic and easy to use, the DC-445 is ideal for finishing short-run offset and digital applications, including greeting cards, postcards, brochures, book covers, and more!
A number of optional features are also available to maximize its functionality. An air-knife provides additional air to improve feed consistency and reduce static problems while double-feed detectors stop the machine when two or more sheets are fed, thus preventing mis-feeds and paper jams. Additionally, slitting and perforating modules can be added to eliminate white borders and create perforated pieces. Up to three slitting and perforating modules can be installed for increased versatility.
Features
Up to 15 creases in a single pass

Processes up to 50 sheets per minute

Fully automated setup

3.9" feed capacity

30 memory settings

Top air-suction feeding system with optional air knife

Optional slitting and perforating modules available

No operator experience required

Demo Videohttp://www.duplousa.com/products/ProductDetails.aspx?ProductNumber=DC-445%20Creaser&CatNumber=3
M.A.M. Offset Repair 800-585-5063
DF-1000 Air Suction Folder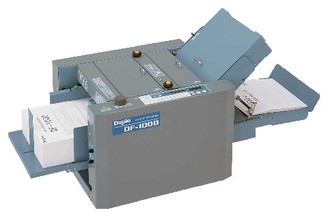 The fully automatic DF-1000 Air Suction Folder is all you need for fast and easy folding of offset and digitally-printed documents. This high performance folder incorporates Duplo's renowned suction technology and tackles common problems, such as static build-up, faced by print providers when finishing digital color work. Unique in design, the DF-1000 does not require an additional separate pump, making it the quietest machine in its class.
With five popular preset folds and a multitude of custom folds, crisp and accurate folding is just a touch away. The folder's automation, user-friendly control panel and 1,000-sheet feed capacity ensure non-stop productivity from start to finish. Quiet in operation and compact in size, the DF-1000 fits perfectly into any office, commercial, and on demand printing environment.
Features
Pumpless, air-suction technology
Perfect for digital print applications
Folds up to 248 sheets per minute
1,000-sheet feed capacity
Fully automatic set-up
SPECS
Paper SizeMax. 11.7" x 17", Min. 4.72" x 7.2"Paper TypeBond, NCR, coated stockPaper Weight52.3—200gsmFold TypesSingle, double, half accordion, letter, accordion, customPaper Feed CapacityUp to 1,000 sheetsSpeedUp to 248 sheets per minutePaper Feed MethodAir suction
M.A.M. Offset Repair 800-585-5063
CC-228 Card Cutter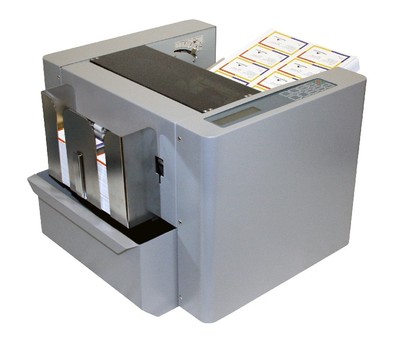 With its small footprint and interchangeable slit/score/perforation cassettes, users will find the CC-228 extremely useful and simple to operate. The CC-228 automatically cuts and slits documents and stacks them in sequential order at speeds of up to 130 business cards per minute. It is the ideal finishing solution for cutting multiple full-bleed cards printed on the same sheet and eliminating cutting/slitting sheets by hand, adding efficiency to your operation.
Features
Up to 130 business cards per minute
Accepts wide range of paper stocks up to 130 lb./350 gsm
Accepts letter or legal-sized documents
Optional slit/score/perforation cassettes
6 preset jobs and 6 programmable memories
Cut mark sensor for top and bottom cutting accuracy
DEMO VIDIEO
http://duplousa.com/products/ProductDetails.aspx?ProductNumber=CC-228%20Card%20Cutter&CatNumber=3
M.A.M. Offset Repair 800-585-5063